Whether you are seeking your own healing, wanting to broaden your own knowledge of plant medicine or want to expand your healing practice as a flower essence alchemist we invite you to join us for our upcoming classes.
FLOWER ESSENCES FOR THE ALCHEMIST: A Praticioner's Guide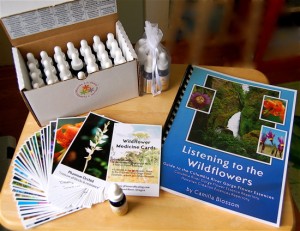 Awaken your inner-alchemist's radiant golden consciousness as you immerse yourself in the beauty, healing, and magic of flower essence energy medicine. This class is appropriate for both healing practitioners and those interested in personal growth and self-care.
In this course you will learn:
• Intuitive development and subtle energy awareness
• Communication with plant devas, nature spirits, & elemental earth energies
• Plant shamanism and earth-based teachings
• Profiles of 33 of The Columbia River Gorge flower essences & gem essences
• Healing properties, selecting and using flower essences, making formulas
• Plant families, flower identification, & signatures (colors, shapes, gestures)
• Flower essence making in the Columbia River Gorge
• Emotional healing, purification, and renewal for adults, children, pets
• Co-creating a healing practice or business; client/practitioner relationships
You will also receive…
• Healing support, guidance, and on-going group/individual healing and ascension initiations & alignments
• Divine feminine heart-centered listening practices
• Alignment with Earth Mother's heart & the Crystalline Grid
• Flower Essence Practitioner Certificate on completion of course and five case histories.
Chakra Balancing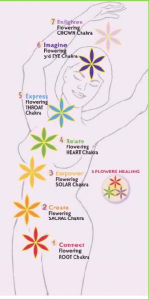 Discover the powerful transformations as you learn to align your own (and others chakras) using our Flower Chakra Formulas. Each week we will spend focused on a particular chakra–integrating.
Flower Essences for the Childbearing Year
Discover the power of Flower Essences to support safe passages for women through the childbearing year. Activating their inner Mother Nature, Flower Essences can assist in reducing anxiety, sleep disturbances, motherhood transitions, releasing fears, creating sacred space during birth, protecting emotional boundaries and offer rescue remedies for crisis moments. This class is open to parents and practioners alike. Participants will learn to make a custom flower essence blend for a specific issue needing support. They'll be working with the essences the 3 Flowers Healing Northwest Wildflower Essences of the Columbia River Gorge.
Parenting with Flowers: Gentle Medicine for Gentle Loving
Discover the gentle medicine of Flower Essences to support soothing baby, create no-cry sleep support, reduce anxiety, balance overwhelmed parenting, safe passages through transitions, self-nurturing to reduce postpartum depression. Participants will create a custom flower essence blend for their specific area of needed support. They"ll be working with the essences the 3 Flowers Healing Northwest Wildflower Essences of the Columbia River Gorge.